ABSOLUTE E-Z UP® TO DEBUT NEW LINE OF ZALLYS ELECTRICAL UTILITY VEHICLES AT PROMAT 2017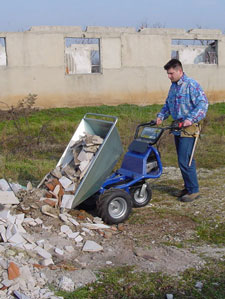 CHARLESTON, S.C. (July 13, 2016) – To expand their product offerings and bring additional business opportunities to their distributors, Absolute E-Z Up® (AEUP) announces the company is now a distributor of Zallys material handling equipment in the USA and Mexico. Based in Italy, Zallys manufactures a wide range of electric vehicles and material handling equipment used for towing, carrying small and large loads, electric wheelbarrows and personnel carriers.
"In choosing new equipment lines, we look for a manufacturer that not only builds a great product, but who builds their business around customer satisfaction," explained Mike Buley, AEUP managing partner. "In Zallys, we saw quality of product, customer-centric transactions and a 'will do' attitude, which is what we found in our successful partnerships with Bravi and CTE. We are extremely lucky and proud to represent products from these three well-respected manufacturers."
AEUP initially was going to import Zallys most popular three units, the Dumper Jet electric wheelbarrow and the M5 and M12 trollies, but due to a high level of interest in the additional products Zallys offers, AEUP and Zallys completed an agreement for the company to distribute the entire line of Zallys CE-approved products.
For more information, contact AEUP at 843.388.2556 or visit www.absoluteezup.com.
Need It Now? Find It Fast!