ABSOLUTE E-Z UP® TO DEBUT NEW LINE OF ZALLYS ELECTRICAL UTILITY VEHICLES AT PROMAT 2017
CHARLESTON, S.C. (March 30, 2016) –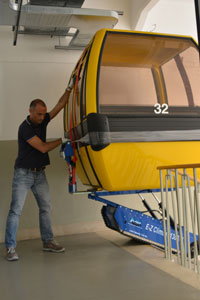 Absolute E-Z Up® (AEUP) diversifies its product offering with the launch of the E-Z Climber™ stair climber, an indispensable partner for people moving heavy and/or bulky objects, whether it be from room to room, up stairs, up or down steep slopes or loading into or off of a vehicle. Built to handle a rugged workload, the E-Z Climber features a fabricated and electro-welded steel chassis and can carry up to 1,322 lbs.
The E-Z Climber is available in three models, the E-Z Climber 1300™, 1300/H™ and 1300/V™. The 1300/H and 1300/V models offer the features of the basic 1300. However, the 1300/H features a horizontal hydraulic platform that allows the operator to transport at incline or decline while the materials remain in horizontal position at all times. The E-Z Climber 1300/V features a vertical hydraulic platform that will raise into a vertical position to secure a load, then lowers the load back into horizontal position for transport. All three models can be operated by one worker, saving time and money, and increasing safety on the jobsite.
Designed and manufactured for AEUP by CTE of Italy, the E-Z Climber will be available domestically in April 2016.
For more information, contact AEUP at 843.388.2556 or visit www.absoluteezup.com.
Need It Now? Find It Fast!